Tired of the classic nightly movie and dinner combo? U.S. too. That's why we're always on the lookout for new things to do, scouring the city for non-boring activities in Brisbane – ones that are guaranteed to take your next date way beyond the beers made before. at pub. Whether you're taking someone on a second date or making your 100th with your partner, we've got some awesome (and, yes, cute) ideas for dates this week, no matter how much money you have. spend. Just think of us as your cultural wingman. You're welcome.

FREE
WATCH FREE MOVIES MADE IN OUR OWN YARD
Every time the Gallery of Modern Art hosts a new exhibition, there are always two things that excite us. The first is all that art that adorns the cavernous halls of the South Rim locale, obviously. The second: whatever the program of films that the team of the Australian cinematheque of GOMA has concocted to accompany it.
With the Queensland Art Gallery and GOMA currently hosting the 10th Asia-Pacific Contemporary Art Triennial, both galleries are packed with pieces to see – and the Australian Cinematheque has not one, not two, but three film lineups to match. . They're also free each, so this trip to a dark theater is pretty sweet on the wallet.
All running until Monday April 25, but showings at different times and dates (usually Friday to Sunday each week), the program includes The magic artsshowcase of Australian animation from the 70s to the present day; under the radar, which showcases the best and brightest new movies from across Asia Pacific; and Australia's Next Wave, a range of Australian newcomers. Whichever session you head to, you and your movie-loving other half will be treated to either a gem you might not have gotten to see on the big screen otherwise, or a piece of local nostalgia.

LESS THAN $20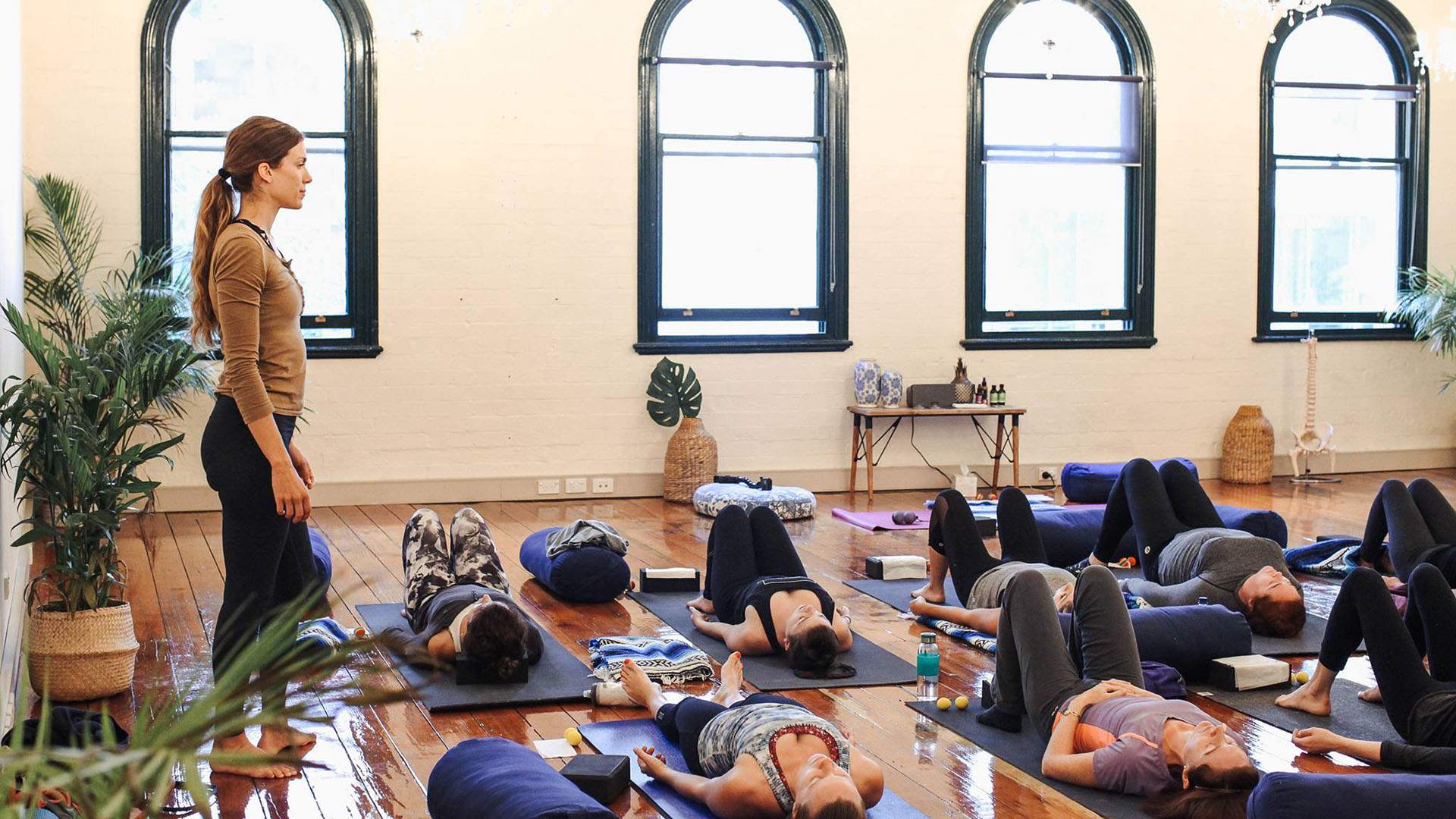 BEND, STRETCH AND WISH
This is the studio that gave Brisbanites the gift of Puppy Pilates and Kitten Yoga. however with Stretch Yoga March special, is to share the love around. Head to the channel CBD and Holland Park sites throughout the month and you and your plus one will pay just $10 for a relaxed session of bending, stretching, and finding your inner happiness through movement – wherever you go, whatever class you take follow, whatever the day and at any time.
You'll each benefit from being active for less than the cost of a glass of cocktail, which is perfect if you're a newcomer eager to finally try yoga, or if you're just feeling a little less financial. And you're spoiled for choice when it comes to times and days, but places are limited, so reservations are a must.
All yoga skill levels are welcome – and class options include simple, deep, gentle, and flowing stretches (all sessions separated), as well as pilates.

LESS THAN $100

SIP YOUR WAY THROUGH AN AFTERNOON GIN FEST
Once upon a time, not too long ago, Brisbane had never hosted a gin festival. Now that is definitely no longer the case. They seem to pop up quite frequently, alongside many other regular gin-focused parties, gatherings and parties. We have several gin-only bars in our town, after all.
They all have one thing in common, of course: so many juniper spirits. And another: oh-so much G&T. That's exactly what's on the menu at Pig 'n' Whistle Brunswick Street, Pig 'n' Whistle Brunswick Street's gin addition, aka its returning Ginfused Festival.
From 12pm to 6pm on Saturday March 26, this part of the valley will become a gin mecca – with plenty of craft gins, a slew of cheese and charcuterie to help you soak up the botanic liquor, cocktail masterclasses and live music. Distilleries such as Brookie's, Four Pillars, Archie Rose, Nosferatu, Wildflower and more will be offering drinks and admission is free.
You and your loved one can also purchase tokens, food and masterclass sessions in advance, as there are several options to attend this festival. A $40 ticket can include either five drink tokens or access to a masterclass, gin tastings, and a cocktail. For $45, you'll get two drink tokens and a charcuterie or cheese plate to share. There's also a $39 option with two drink tokens and a smoked salmon bruschetta, plus a $120 package that covers all food and six drinks.

LESS THAN $200
GO TO A CONCERT TO HELP A GREAT CAUSE
Secret Sounds, the organization behind some of the country's best-loved festivals and memorable tours including Splendor in the Grass, has announced a major tour of southern Queensland and northern New South Wales to raise funds for flood-affected communities. The tour promoter hopes to raise $1 million over a month-long period, with those funds going to organizations including Lifeline, GIVIT, Koori Mail Bundjalung Community Flood Relief and Northern Rivers Community Foundation.
The Flood Aid tour will take place over three separate gigs, including one in Brisbane. Come Saturday, March 26, to Fortitude Valley Music Hall, Brisbanites will be treated to sets from Bernard Fanning, The Rubens, Cub Sport (doing a DJ set), Last Dinosaurs, Stevan and Hanni.
This means you and your favorite person can spend a night listening to live music and helping people in need, because that's what this concert is for.
If you can't make it, you can also get involved by purchasing products from Secret Sounds. A special line of irony "Where the hell are you?" t-shirts and hats have been created, and a flood relief auction is also underway.

A GREAT CUT

DAY TRIP TO BYRON FOR A FUNDRAISING LUNCH
Thanks to the chaotic weather that has seen summer, the past month has been extremely difficult in Queensland and New South Wales. This includes the Northern Rivers region, which has been affected by flooding to a devastating degree. Want to help? You do not know where to start ? Here's an event that will bring you and your partner to Byron Bay, showcase the region's fresh produce and put money into flood relief efforts. Just block your calendar on Saturday March 26 and get ready to do your part by attending a long lunch.
Taking place in Crystalbrook Byron at 1pm local time, this long flood relief lunch says it all in its name. You'll hang out at the hotel's Forest restaurant, leisurely eat a two-hour meal, sip cocktails, and help a hugely worthy cause.
Menu highlights include oysters served with a granita made with Brookie's Byron Slow Gin and Davidson plum; hand-stretched Byron Bay mozzarella with homemade pickles; that cheese outfit again, this time with ricotta ice cream on molasses pies; and green olive-stuffed, sun-dried zucchini blossoms, all coated in Stone & Wood Pale Ale.
Tickets are $160 each, which includes two cocktails — and the full price will be donated to help locals through Givit.
Posted on March 23, 2022 by
Concrete playground